As we approach summer, lots of us are turning our attention to home and garden improvements which can often be expensive! However, you don't always need to go out and buy lots of new things to give your garden that homely feel, its just a case of getting creative, upcycling and working with what you have. Here are our top 3 creative upcycling projects.
A Pallet Chair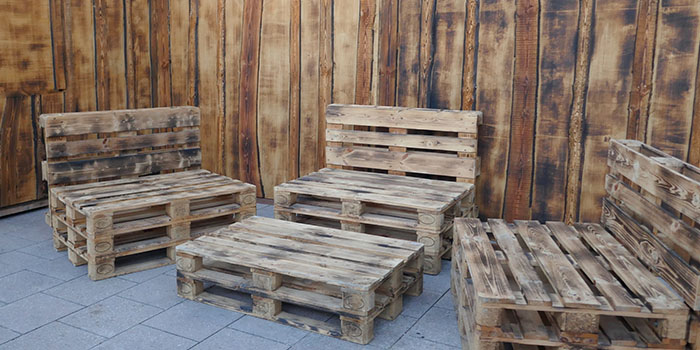 You may have some spare pallets lying around, or if not, you may be able to source pallets either for free or relatively cheaply from garden centres, builders merchants or on Facebook selling sites.
To make a simple pallet chair, you will need 3 pallets and then some cushions:
Step 1: Create a base for your chair using two pallets placed on top of eachother and secure them together with screws
Step 2: Add another pallet to the back of the base to create a backrest and secure with screws
Step 3: Smooth the wood with sandpaper making sure all rough edges are removed
Step 5: Paint your chair, it's a good idea to use outdoor paint that will withstand being outside in all weathers
Step 6: Once the paint is dry, either make or buy some cushions to make your chair comfy
Step 7: Sit back and enjoy your handiwork!
Tin Can Lantern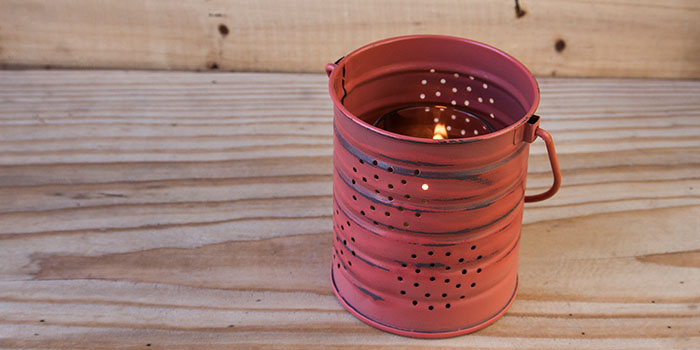 This upcycling project is a really simple one and can make your outdoor space feel cosy in the evenings. All you need for this upcycling project is some clean, empty tin cans, a hammer and nail.
Step 1: Collect some tin cans, give them a good wash out and remove any labels
Step 2: Fill the cans 90 percent full of water and pop them in the freezer overnight
Step 3: Grab some paper and draw out a simple dot pattern
Step 4: Take your cans out of the freezer and tape your paper pattern to the can
Step 5: Use the hammer and nail to punch holes into the cans using the dotted pattern – watch your fingers! (the ice inside keeps the metal can from bending)
Step 6: Once your pattern is complete and all the holes are punched, peel off your paper pattern and run the can under warm water to remove the ice from inside
Step 7: All that's left to do now is to pop your tealight inside ready to light or switch on in the evening
Colander Hanging Baskets
Hanging baskets full to the brim with flowers are an easy way to add some colour to a garden. For this project you will need a metal colander, some twine, plants and soil.
Step 1: Choose your colander and spray paint it a bright colour if you would like to
Step 2: Grab some twine and wrap It round the colainder handles several times, leaving a few feet of twine hanging free from either handle, gather the twine up and tie together
Step 3: Fill the collainder with soil
Step 4: Plant the colander up with either seeds or flowers
Step 5: All you need to do now is find somewhere in your garden to hang the basket from